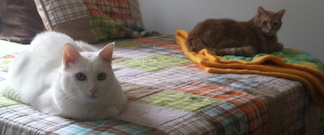 You just booked an amazing vacation to Hawaii or Florida or really anywhere warm because winter is so dang long in Minnesota. Good for you! The warm sun and lazy beach days lay ahead for you, but you feel guilty about leaving behind your beloved furry companion behind. Where will he stay while you are gone? Will he get all the love and attention he would have if you were home?
In St Paul. you have a few different options. A friend or neighbor can watch your pets, you could board them or you could have an insured professional come to your home and care for your pets. Every pet is different so let me help you decide how much to pay for pet care next time you take a trip.
The Friend or Neighbor
Having a neighbor or friend check on your pets could be a good option if your pet is very low maintenance and you have a neighbor you trust to be in your home while you are not there. Generally this is the most inexpensive option. It especially works well if you can trade pet care for pet care. When one of you is gone the other watches the pets and vice versa.
One downside of this option is the lack of insurance. If something happens to your pet while you are away you will most likely get an apology and that is it. Accidents and messes sometimes happen with pets. There is no guarantee the neighbor will be willing to take care of the mess for you so you can come home to a clean house. Finally, the lack of experience could end up with mistakes being made. Will your neighbor do a full check of the house to make sure the cats are not locked in a room or have not made a mess? Do you trust a neighbor to safely walk Fido while he is flailing around and pulling like the lead dog in the Iditarod? These are things to consider when deciding on a caregiver.
Daily Pricing – $0 - $20 for one cat, $0 - $50 for one or two dogs
Boarding your Pets
There are many different kinds of boarding kennels in St Paul depending on what level of pet care you are looking for. From high end boarding where your pup gets his own suite, TV and other dogs to play with to lower priced boarding at vet offices where your pet will stay in their kennel most of the time with occasional potty breaks.
Boarding can be a great option for young, high energy dogs that are well socialized. It gives them an opportunity to play with other dogs during the day then relax and recuperate at night.
However, there can be downsides to boarding your dog in a facility. Sometimes there can be a change in your pet's personality or they have anxiety during and after boarding due to the stress of being around other anxious dogs. They can also pick up a bad habits like barking, or even worse accidents in the house.
We strongly recommend against boarding cats. They generally do not do well in new, unfamiliar situations and transporting them to the boarding facility can be very stressful for your kitty because most cats do not enjoy car rides.
Daily Pricing - $15 - $40 for one cat, $35 - $55 for one dog, $50 - $100 for two dogs
Professional In Home Pet Sitter
Having a professional, insured St Paul pet sitter come to your house to care for your pets can be a great option for cats, dogs and other types of pets. Your dog or cat gets to stay in her own home which is a lot more relaxed environment than boarding. We will keep your pet on a feeding and exercise schedule she is used to so there isn't a huge change in routine for her to deal with in addition to your absence.
Your pet sitter will also clean up any messes that might happen so you come home to a clean house and happy pets. All sitters are trained to watch for signs of illness so your pet will stay healthy and happy. In addition, your house will be more secure because we can bring in newspapers/mail and rotate lights during our visits so it looks like someone is home. If there is a home emergency, like a broken pipe or a gas leak, someone will be there to catch it before any major damage occurs.
For young, active dogs I do not recommend in home pet sitting services if you will be gone longer than two days. Any more than that is a long time for your dog to be by herself without companionship. Cats and older, mellow dogs can handle the time alone a lot better.
Daily Pricing – $15 - $35 for one or two cats, $36 - $65 for one or two dogs
As you can see the cost of pet care can vary. Next time you take a trip, consider your different options for pet care based on the age, energy level, and preferences of your pets. We realize every situation is different so contact us and we can help you figure out what would be the best care situation for your pets.
Contact us now to find out how we can help you with your pets while you are away. 
Categories: None